Celebrate Christmas with us November 26th, 27th, 28th.
Let our horse drawn carriage ride take you on a festive journey of our Village while you enjoy listening to our Victorian carolers as they walk through our main streets! If you are feeling a little chilly on your way to our amazing restaurants and boutiques, make sure you stop by our fire warming stations to roast marshmallows and snuggle up! We will also be having a Town Crier and an outdoor Christmas market and so much more! Free admission as well.
Celebrate Christmas With Us!
Event List and Tour Guide
FRIDAY NOVEMBER 26TH
* 7am – 7pm The Harbour Merchant Coffee Company: Launching Holiday peppermint hot chocolate
* 9am – 5pm NADO Skin & Body: Christmas Open House
* 9am – 5:30pm Home Hardware: Scratch & Save up to 50% off
* 9am – 9pm The Edible Journey: Offering new superfood tea lattes & botanical meringue cookies
* 10am – 12pm Town Crier
* 10am – 5pm Connections: 20% off (Excluding consignment)
* 10am – 6pm Joshua & Company: In store promotions
* 10am – 6pm Lady Savannah fashion boutique: Christmas Open House
* 10am – 6pm Diamonds & Toads: Pop up artisan market
* 10am – 6pm Ports Pets: 3 bag dog treats $9.99 / dog & cat toys 15%-35% Off.
* 10am – 6pm Paradise Vintage Shoppe: Vintage Christmas (in-store promotions)
* 10am – 7pm Little Beach: Christmas Open House
* 10am – 8pm James Street Home Decor: 15% off entire store
* 11am – 2pm Dickens Carolers
* 11am – 5pm Rhumba: Prizes & surprises
* 11am – 5pm The Chique Shack Boutique: Pink Christmas
* 11am – 5pm Studio Style: In store promotions
* 11am – 6:30pm Modern Maple: Gift with purchase over $50 & selfie station
* 11am – 7pm Frankly Scarlett: 25% off all clothing
* 11am – 8pm reVibe: Gift for every child
* 12pm – 2pm Horse Drawn Carriage Rides
* 3pm – 5pm Town Crier
* 3pm – 6pm Fire Warming Stations/Marshmallows
* 4pm – 6pm Dickens Carolers
* 4pm – 6:30pm Outdoor Christmas photo booth
* 5pm – 8pm Kettle Creek Inn: Traditional Dickens turkey dinner with all the trimmings (Main menu also available)
* 6pm – 10pm Windjammer Inn: Open House/Parade watch party
* 7pm The Lions present, Dickens Days Night Parade
SATURDAY NOVEMBER 27TH
* 7am – 8pm The Harbour Merchant Coffee Company: Launching Holiday peppermint hot chocolate
* 9am – 8pm Home Hardware: Scratch & Save up to 50% off
* 9am – 9pm The Edible Journey: Offering new superfood tea lette's & botanical meringue cookies
*10am – 12pm Town Crier
* 10am – 8pm Joshua & Company: In store promotions
* 10am – 8pm Lady Savannah fashion boutique: Christmas Open House
* 10am – 8pm Diamonds & Toads: Pop up artisan market
* 10am – 8pm James Street: 15% off entire store
* 10am – 8pm Connections: 20% off (excluding consignment)
* 10am – 8pm Little Beach: Christmas Open House
* 10am – 8pm Ports Pets: 3 bag dog treats $9.99 / dog & cat toys 15%-35% Off.
* 10am – 8pm NADO Skin & Body: Christmas Open House
* 10am – 8pm Paradise Vintage Shoppe: Vintage Christmas (in-store promotions)
* 11am Port Stanley Terminal Rail: Santa Treats Train
* 11am – 5pm The Chique Shack Boutique: Pink Christmas
* 11am – 7pm Frankly Scarlett: 25% off all clothing
* 11am – 8pm Modern Maple: Gift with purchase over $50 & selfie station
* 11am – 8pm Rhumba: Prizes & surprises
* 11am – 8pm reVibe: Gift for every child
* 11am – 8pm Studio Style: In store promotions
* 12pm – 3pm Dickens Carolers
* 12pm – 8pm Outdoor Christmas photo booth
* 1pm Port Stanley Terminal Rail: Santa Treats Train
* 1pm – 4pm Horse Drawn Carriage Rides
* 1pm – 5pm Outdoor Christmas Market
*  2pm – 4pm Town Crier
* 2pm – 8pm Port Stanley Festival Theatre: Crooner Christmas
* 3pm Port Stanley Terminal Rail: Santa Treats Train
* 4:30 – 8pm Fire Warming Stations/Marshmallows
* 5pm – 8pm Dickens Carolers
* 7pm – 8:30 Horse Drawn Carriage Rides
SUNDAY NOVEMBER 28TH
* 7am – 5pm The Harbour Merchant Coffee Company: Launching Holiday peppermint hot chocolate
* 9am – 9pm The Edible Journey: Offering new superfood tea lette's & botanical meringue cookies
*9:30 – 2pm Windjammer Inn: Holiday kick-off brunch
* 10am – 12pm Town Crier
* 10am -3pm Home Hardware: Scratch & Save up to 50% off
* 10am – 5pm Joshua & Company: In store promotions
*10am – 5pm Lady Savannah fashion boutique: Christmas Open House
* 10am – 5pm Diamonds & Toads: Pop up artisan market
* 10am – 5pm NADO Skin & Body: Christmas Open House
*10am – 5pm Paradise Vintage Shoppe: Vintage Christmas (in-store promotions)
* 10am – 6pm James Street: 15% off entire store
* 10am – 6pm Little Beach: Christmas Open House
* 11am – 2pm Dickens Carolers
* 11am Port Stanley Terminal Rail: Santa Treats Train
* 11am – 3pm ReVibe: Free gift for every child
* 11am – 4pm Outdoor Christmas photo booth
* 11am – 4pm Frankly Scarlett: 25% off all clothing
* 11am – 4pm Connections: 20% off (excluding consignment)
* 11am – 4pm Modern Maple: Gift with purchase over $50 & Selfie station
* 11am – 5pm Ports Pets: 3 bag dog treats $9.99 / dog & cat toys 15%-35% Off.
* 11am – 5pm Studio Style: In store promotions
* 12pm – 2pm Horse Drawn Carriage Rides
* 12pm – 4pm Rhumba: Prizes & surprises
* 12pm – 4pm The Chique shack Boutique: Pink Christmas
* 1pm Port Stanley Terminal Rail: Santa Treats Train
* 1pm – 4pm Fire Warming Stations/Marshmallows
* 2pm – 4pm Town Crier
* 3pm Port Stanley Terminal Rail: Santa Treats Train
* 3pm – 5pm Dickens Carolers
* 3pm – 5pm Horse Drawn Carriage Rides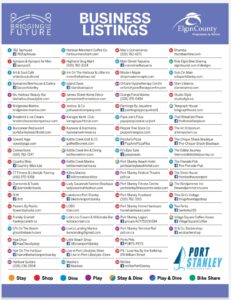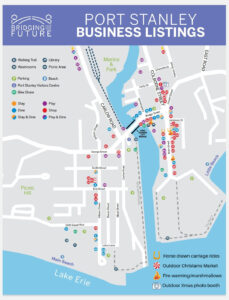 For more information, email info@ladysavannahfashion.com or click here for all the events on Facebook
Facebook Events